Coronavirus Hypnosis Script – COVID-19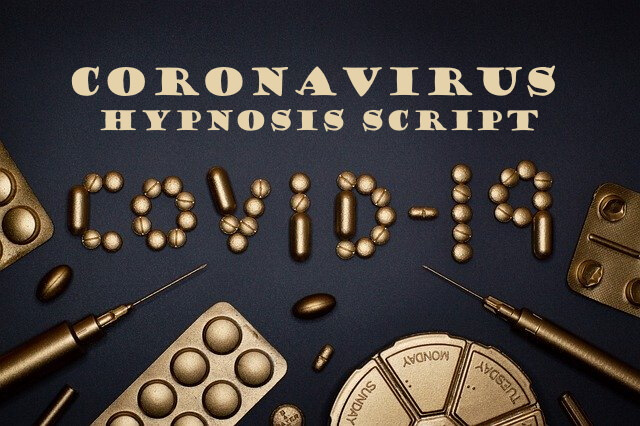 An effective  Coronavirus hypnosis script that has been written for your client who is suffering from stress, tension, anxiety or worry caused by the Coronavirus COVID-19 pandemic. It creatively blends familiar themes and some new ideas, to help you to help them release anxiety and strain.Even as  their hypnotherapist it will help you too.
By Steven Harold DCH DHP
More About this Coronavirus Hypnosis Script
Coronavirus (COVID-19) has brought about a world and society that is changing before our eyes. Past certainties are disappearing gone and new challenges are arriving. Yet the human race has been through these circumstances many times before. We will survive but we will also lose many people we know.
This multi-layered Coronavirus Hypnosis Script is created to encourage your clients to make the most of the current situation.  It boosts acceptance that your client's lifestyle will change. It also reminds the listener with the adage that every cloud can have a silver lining. There are opportunities to re-think and change how we have been in the past leading to a better future
Other Issues this Coronavirus Hypnosis Script may help:- Self-acceptance, unwanted change, relaxation, any difficult situation that a client finds challenging to accept.
Coronavirus – Lockdown, Self-Isolation Issues
The Coronavirus pandemic has quickly brought about significnt changes to everyone's life, options, decisions, behaviour, and freedom. We went very quickly from a lifestyle that enjoyed variety of options and self-centred decisions to a society of restrictions and limitations. With the advent of these changes we also had to psychological process what all this means to us as individuals, to our loved ones and the future.
"…coronavirus self-isolation may

open up cracks in relationships…"
Lockdown has meant that we are confined to one building, our home. It also means that we are spending much more time in the company of our loved ones or housemates. This intensity of closeness and increase in time together can lead to strains in relationships. If a relationship was already under strain the coronavirus lockdown will probably lead to increased pressure and tension in those relationships.
Alternatively the coronavirus self-isolation may open up cracks in relationships that prior to the lockdown, were not obvious or visible. It can be easy for people to suggest that the coronavirus experience could also provide us with an opportunity for positive change. This is of course true. However, for some people this may be a twee notion and not as easy to put into practice.
As a hypnotherapist you will be seeing clients online via video sessions and some clients will need your help with their anxiety, tension, stress and worry about the coronavirus. They will need your help to know that they can experience profound relaxation with hypnosis. In doing so, you can then plant hypnotic suggestions with this script that helps them have some useful space and distance from their worry.
Coronavirus Hypnosis Script will help the hypnotherapists and clients
By using this Coronavirus Hypnosis Script you will help them gain some perspective and that they do have choices despite the restrictions imposed on their lifestyle. When you read the script, you too, as the hypnotherapist will find the suggestions will help you and you will naturally experience trance.
In this regard both you, as the hypnotherapist, and your hypnotherapy client will benefit from hearing the powerful suggestions contained in this Coronavirus Hypnosis Script 
Many people are experiencing stress, anxiety and worry about the current situation and also how the future will be affected. Further advice can be found at https://www.bbc.co.uk/news/health-51711227